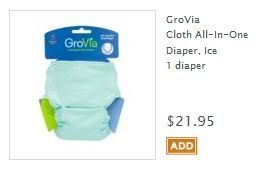 Alice.com
is now offering GroVia cloth diapers, cloth wipes, bio wipes, laundry detergent, diaper balm and biosoaker pads! I'm excited about this because now you can order even more of the eco-friendly items you need in one place and for a great price! Plus I'm a big fan of GroVia!
If you are new to
Alice.com
, it's a
very convenient website because there are no coupons to clip, and shipping is FREE (with minimum order of six items)!
Once you create an Alice.com account, check out other
recently added products
here! You'll find a large selection of Plum Organics baby and toddler foods, Bum Boosa bamboo wipes, Babo Botanicals bath products, and Natural Babycare wipes and diapers to name a few!
Disclosure: This post contains a referral link.