I've been eating Newman's Own products for years, but only recently did I discover
Newman's Own Organics
. I mistakenly thought they were the same company, until I learned that Newman's Own Organics ventured out on their own in 2001. However, Newman's Own Organics is still part of the Paul Newman legacy. This legacy is due in part to Paul Newman, founder of Newman's Own, who has given over $200 million to charities since 1982!
Newman's Own Organics
offers quite a range of organic products, including pretzels, chocolate, cookies, popcorn, olive oil, balsamic vinegar, coffee, tea, mints, and pet food! All Newman's Own Organics products are certified organic by Oregon Tilth. (Find out what that means
here
). One thing I really like about Newman's Own Organics is how honest and straight forward they are about their products. If you have a question about an ingredient, chances are they've answered your question
here.
Newman's Own Organics generously provided me with a box full of goodies to sample. There were so many different types of snacks, cookies, mints, dried fruit, chocolate, etc. that I won't tell you about each product, but what I will tell you is that what I tried was delicious! Here are a few of my favorite Newman's Own Organics products: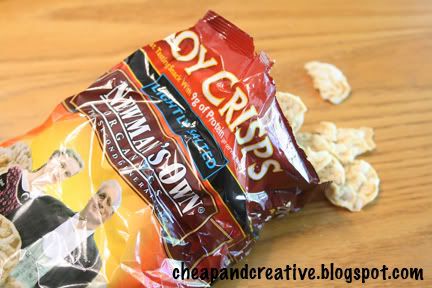 Soy Crisps (lightly salted): These are a satisfying, low-calorie, and gluten-free alternative to potato chips! I found them fairly addictive, trying just a few quickly turned into eating most of the bag. However, a one ounce serving (about 1/3 of the bag) is only 110 calories! What are the ingredients you ask? Organic Low Fat Soy flour, Organic rice flour, salt, and sunflower oil. That's it!
Hermits (ginger) cookies: I think I've found my new (not so) guilty pleasure! The Newman's Own Organics ginger Hermits cookies contain organic raisins and molasses. The molasses is rich and delicious!
Newman O's: If you put these cookies in an Oreo's package, I doubt anyone could tell the difference because Newman O's are a perfect replica of Oreo's in flavor, texture, and appearance. Yet, I'm going to choose Newman O's over the competition any day due to their high quality and organic ingredients!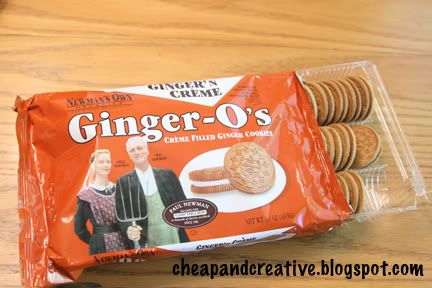 Ginger-O's: These cookies taste like ginger snaps, there are incredibly yummy with a little bit of spice to them!
Dried Applies: The Newman's Own Organics dried apples were the first thing to disappear. I LOVE dried apples, and these were yummy! They had the perfect amount of sweetness and moisture. My only wish is that the bag was a little bigger and full of more deliciousness… I saved the dried cranberries and apricots for a flight I'm taking this week, because the bag fits perfectly in my carry-on bag and I will very much enjoy the snack en route.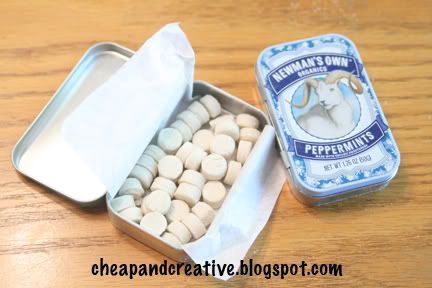 Mints: My favorite is the Newman's Own Organics Wintergreen mints. They are sweet and simple, literally. The ingredients are: Organic sugar, organic corn syrup, and natural wintergreen flavor.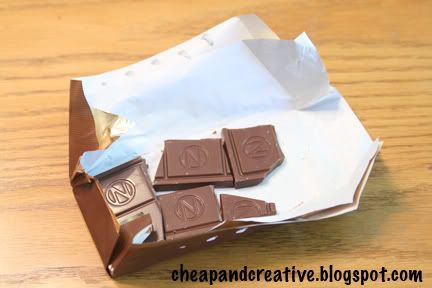 Mocha Milk Chocolate Bar: I enjoyed the mocha milk chocolate bar because it has a hint of mocha flavor, yet is not overwhelming. Due to the rich chocolate flavor, I slowly savored every bite.
Buy It: Newman's Own Organics products are available in variety of stores, you can find a local store here.
Disclosure: I received sample product from Newman's Own Organics in order to facilitate my review. No other compensation was received. This post is based on my own personal opinions and experiences. Thank you Newman's Own Organics for sponsoring this review!