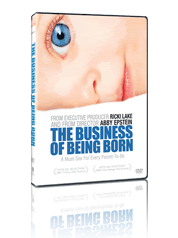 I can think of few other processes as natural and instinctive as giving birth. Why then do many of my friends, and myself included, use words like "disappointed," "angry," or "robbed" when we describe our child's birth? Why are so many women scared of giving birth, or convinced they won't be able to handle the pain?
Today I watched
The Business of Being Born
a documentary produced by Ricki Lake, which asks the question: "should most births be viewed as a natural life process, or should every delivery be treated as a potentially catastrophic medical emergency?" The creators of The Business of Being Born encourage you to "Take back your birth!"
One thing a commenter said on the documentary was that a lot of people spend more time considering options when buying a car than they do about giving birth! It's crazy to me how in 2005, one of every three births was a cesarean section! Often times these cesareans are unnecessary or dangerous. It is my belief that most births can naturally and safely take place without medications and surgical procedures.
Are medical professionals always acting in the best interest of the mom and her baby?
It made me think about my son's birth and how there were parts where I didn't feel in control, felt pressured, or where decisions were made for me. For example, I wished that the hospital had respected my wishes to be drug free and go without an epidural. They were very pushy about giving me medication in my IV, finally I gave in, not because I couldn't handle the pain, but mostly because they seemed to think I needed it. Another disappointment I have is that I didn't see my son immediately, I don't know why they didn't put him on my chest after he came out, it makes me sad that I had to wait to see his face until after everyone else in the room had. It was minutes, that felt like hours, before I could hold him. Overall, my memories are positive but I'm left asking questions and wondering if I could have given birth completely on my terms?
My wish is that all women will make an informed and educated decision. You are entitled to your own opinion, please let it be an educated one that you form on your own, hopefully before labor starts :)
It's not an understatement to say that EVERY WOMEN SHOULD WATCH THIS DOCUMENTARY.